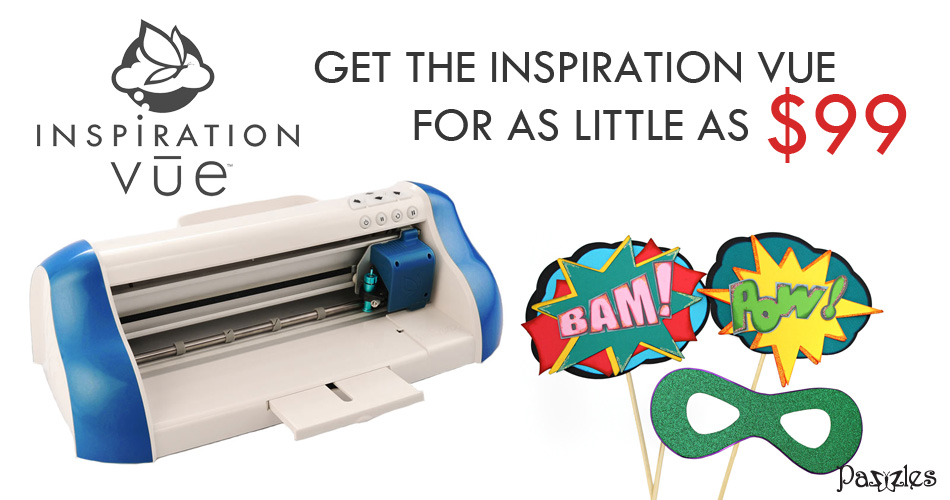 The Pazzles Inspiration Vūe™ is a premium personal electronic die cutting machine that lets you unlock your creative potential. Discover the freedom of being able to create and cut any design or font, or even use and modify premade designs to fit your needs!

The Inspiration Vūe™ connects to your computer similar to a printer but instead of printing the Inspiration Vūe™ uses a small blade to cut any font or design, including designs you have created, in sizes as small as 1/8" all the way up to 12"x24". Cut a variety of materials including paper, cardstock, chipboard, and fabric, or go even farther with added tools to draw, engrave, emboss, distress, and pierce!

The Pazzles Craft Room is a one-of-a-kind subscription website created to educate and inspire crafters who use the Pazzles Inspiration Vūe™ electronic die cutter! In Pazzles Craft Room, you can ask questions, socialize, and share with a community of crafters and artists just like you.
You will also find amazing resources like weekly live online classes, projects with cutting files and instructions, hundreds of video tutorials, and more! You will even get to download up to appr. 400 images a month from our ever expanding cutting file library that contains over 5000 images. As if all this wasn't enough you will also get a 15% discount off of our entire store!
MORE ON THE PAZZLES CRAFT ROOM >
*Offer subject to the terms and conditions of the Pazzles Craft Room. Must complete entire subscription term to receive stated discount. Failure to complete subscription commitment will result in an early termination fee. Details available in terms of use and addendum presented prior to completing purchase. Offer only available to residents of the United States of America. Additional shipping required for residents of Alaska, Hawaii, Puerto Rico, and US Virgin Islands. Upon order submission and shipping assessment Pazzles will contact your for payment on additional shipping charges prior to shipping order